To make the work process more flexible, efficient and profitable, several European countries have started offering foreigners freelancer visas and so-called digital nomad visas. The latter allow people who are not EU citizens to live in a European Union country while working for companies and clients in other countries in different parts of the world.
The European countries listed below offer just such opportunities.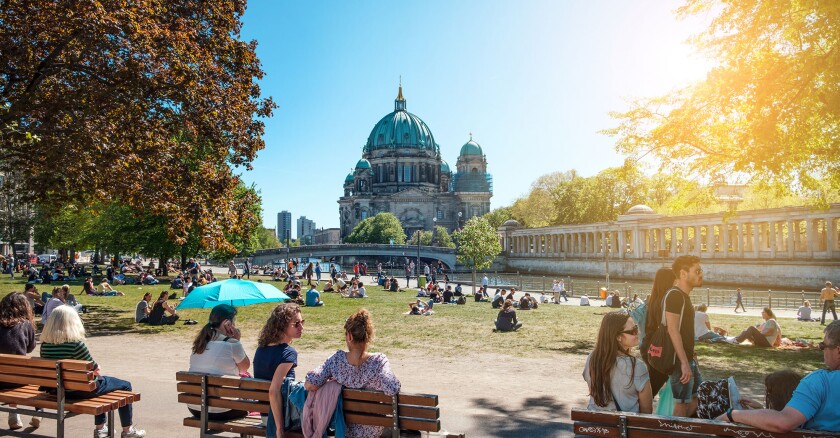 Pay attention. It is worth checking information about the granting of visas to one or another country in the official state sources of the EU states, bypassing dubious organizations that act as intermediaries.
Spain
Persons interested in working as a freelancer in Spain must obtain the so-called "autonomy". In order to be registered as an "autonomo", a person must prove that he is either a freelancer and self-employed or runs a small business.
In addition, the Spanish authorities announced that they plan to launch a special visa designed for digital nomads to attract talented people from around the world and thus increase investment in the country's economy.
Once a person comes to Spain to live and work remotely, they have the right to fill out an Application for a Residence Permit.
Detailed information on how to get a visa for freelancers in Spain – see the link.
Home office with a sea view. European countries where it is easy to get a visa for remote workPhoto: Mallorca, Spain
France
Another European country that offers great opportunities for freelancers interested in remote work.
By obtaining a professional visa, a freelancer will be allowed to work in France without having to find an employer to sponsor a self-employment visa. Foreigners who plan to start a new business in France belong to one of the categories of free business.
They will be issued a long-term visa, equivalent to a residence permit, marked "entrepreneur/free profession". Such a visa will be valid for one year, provided that the holder submits an application for confirmation of the visa on the fifteenth day of arrival.
In order to obtain such a freelance visa in France, a person must prove that he can earn at least 1,540 euros per month. You also need to complete all the necessary formalities.
More information about a visa for freelancers to France can be found by following the link on the official website of the country's visa center.
Home office with a sea view. European countries where it is easy to get a visa for remote work Photo: Lyon, France (unsplash.com/saba-xr)
Malta
Malta also launched a nomadic residence permit system in June 2021, which allows travelers to work while living in the country.
All people who wish to live in Malta and work remotely must prove that they earn at least €2,700 per month.
The Malta Digital Nomad Residence Permit allows third-country nationals to apply for a visa to travel to Malta. Such a permit will be issued for one year and may be extended upon application at the discretion of Residency Malta.
All persons interested in staying in Malta for less than a year will be issued a national visa for the duration of their stay.
However, candidates must meet certain requirements. More details about the visa for freelancers in Malta – see the link.
Estonia
The Estonian government has approved amendments to the Law on Foreigners, which allow the launch of a digital visa for nomads. At one time, this made the Baltic country one of the first in the world to introduce such entry permits.
Estonia digital nomad visa allows individuals interested in work regardless of location and entrepreneurs to live in this country for more than a year, working for employers or clients outside the state.
Previously, the Ministry of Internal Affairs emphasized that such a visa can be issued for both short-term and long-term stays.
Home office with a sea view. European countries where it is easy to get a visa for remote work
However, when applying for such a travel permit, individuals must meet the following requirements:
Prove that you can work regardless of location and perform your duties remotely using telecommunication technologies.
Present a valid employment contract with a company registered outside Estonia.
Prove that your income meets the minimum threshold for the six months preceding the application. At this time, the amount of monthly income is 3504 euros.
For more information about a visa for freelancers in Estonia, see the link.
Romania
Romania has also announced that it will launch a Digital Nomad Visa scheme for all foreigners interested in working remotely.
At the end of September this year, the Senate of Romania approved the law project that will help implement such a scheme in this country. Then the bill was sent to the Chamber of Deputies for discussion.
Home office with a sea view. European countries where it is easy to get a visa for remote workAccording to the co-founder and business development manager of Impact Hub Bucharest, Vlad Craiovian, Romania's decision to introduce the Digital Nomad Visa scheme will bring more benefits to holders of such travel permits compared to other European countries or even the US, where the cost of living is almost 50% higher.
It is reported that spending per person in Romania averages less than €500 per month.
It is not yet possible to obtain visas for freelancers in Romania, but the country's authorities promise to introduce such an opportunity "in the near future."
Greece
In order to attract more foreigners to the country, Greek authorities have passed a new law that allows holders of digital nomad visas to pay only 50% of their income tax.
In addition, since the beginning of this year, self-employed workers have been allowed to enter the country as temporary residents.
"Following a flurry of remote work visas issued by countries around the world over the past six months, Greece and Croatia have become the latest countries to 'roll out the red carpet for remote workers': developing programs designed to attract digital expats," the report said. , published by the Citizenship by Investment Guide.
Home office with a sea view. European countries where it is easy to get a visa for remote work

Holders of such documents from non-EU countries, including freelancers, must complete an application for a long-term visa for more than 12 months. Applicants must provide proof that they have a stable income of at least €3,500 per month.
Czech Republic
The low cost of renting a home office in the Czech Republic, as well as the availability of housing, make this country one of the best places for those interested in remote work.
Freelancers can obtain a work permit in the Czech Republic by applying for a long-term visa known as the "Visa Zinvo". To qualify for such a visa, applicants must provide a copy of a trade license or documentation showing that the freelancer will be working specifically from the territory of the Czech Republic.