A freelance exchange is an online platform where a company can find and hire a specialist to work remotely. Such sites are especially popular in digital business. They act as an intermediary, providing a safe and convenient way to bring in remote experts to perform ad hoc tasks.
On the freelance exchange, you can find specialists such as a designer, marketer, copywriter, and developer. Exchanges work differently. For example, the well-known foreign site Upwork uses special algorithms that analyze the order and suggest suitable performers even before pressing the "Search" button.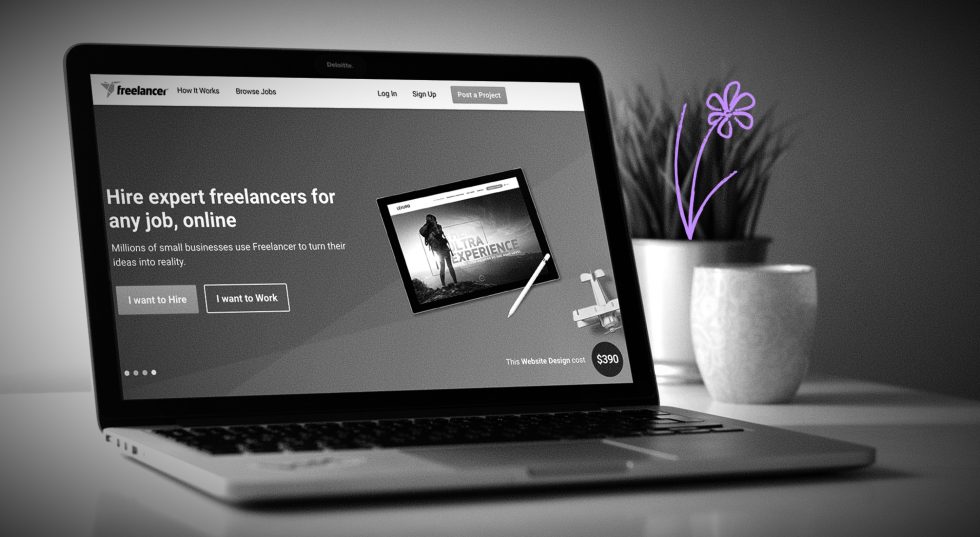 The same process works in reverse: Upwork's algorithms suggest freelancers the right jobs based on the content of their profiles. At the same time, performers also have the opportunity to independently search for projects and respond to client invitations. The more successfully completed projects, the better the chances of attracting new customers.
Freelancing exchanges can differ in the type of work offered (one-time projects with fixed rates or ongoing projects with hourly pay), services provided (development, design, copywriting, and so on), interaction models, geographic preferences, and so on. Let's look at them in the next section.
The best freelance exchanges
Abroad
For all
FlexJobs
This site is useful not only for freelancers, but also for those who are looking for a full-fledged remote employment. Offers can be sorted by type of work. You don't have to worry about scammers: all vacancies on FlexJobs are carefully checked. However, you will have to pay for permanent access to them.
SolidGigs
SolidGigs is recommended for those who want to quickly find a job. Every week the team of this resource makes a newsletter with 2% of the best offers from all over the Internet. The site also has a library of courses, templates, scripts, and other tools to help freelancers find more projects, raise prices, attract more serious clients, and take their business to the next level.
Fiverr
This site presents projects for which customers are willing to pay from $5. Fiverr is suitable for beginners who want to build a portfolio.
Upwork
Upwork is the largest freelance marketplace in the world. More than 12 million performers and 5 million customers are registered on it, 3 million tasks are added there every year. Upwork takes a 20% commission. The resource is suitable for beginners, but it has many projects with low pay. More profitable orders should be looked for on specialized sites.
CloudPeeps
Suitable for those who have a portfolio and experience. It is more difficult to register here, but if you pass the verification, then getting a job will be easy. The site specializes in marketing, social media and copywriting.
Indeed
The site collects offers from other sources. It is easy to find a remote job or a vacancy in a local company on it. You can use it for free.
RB.RU organizes a meeting of the Founders' Mondays project for beginners and experienced entrepreneurs. Twice a month on Mondays.
Сollege recruiter
The resource is intended for students or recent graduates. It lists jobs for part-time freelancers. Here you can find the first job that will provide useful contacts and experience.
freelancer
There are many projects on this site – both one-time and permanent. You can only respond to eight proposals for free. The commission can be $3-5 or 3-5% per order (compared to other resources, this is inexpensive).
Guru
It's easy to create a profile with a description of the experience, and this increases the chances of attracting potential employers. The commission is approximately 9%, several free applications are also available to the user.
servicescape
ServiceScape started operating in 2020. It is an international marketplace for freelancers with a wide range of skills and experience, but with a focus on graphic design, copywriting, editing and translation. ServiceScape already has 259,000 completed projects and over 79,000 clients. The site is suitable for cooperation with startups and small and medium businesses.
Craigslist
This site does not ensure the security of transactions, so it is better to conclude an agreement or meet with the customer in person. Most clients are looking for performers for urgent tasks. Remote work can be found in the section for large cities.
For copywriters
content
There are many high-paying jobs for freelancers who do writing, editing, and creating all kinds of content. In addition, you can find full-fledged remote work on Contena.
Freelance Writing Gigs
This site looks like a bulletin board that refreshes Monday through Friday to offer fresh freelance writing assignments.
Blogging Pro
Ignore the name of the resource: here you can find any projects – from blogging to editing and copywriting. Blogging Pro is completely free.
Journalism Jobs
A site for those who dream of becoming a journalist. In addition to typical projects for copyright